Based in Oberreute, Bavaria, the German company E.V.A. GmbH develops vegan cheese alternatives under the brand Simply V. Crucial to its product development process is the ability to maintain certain temperature, humidity, and time parameters – and precise parameter settings are vital for optimizing its existing products and processes too. E.V.A. GmbH aligns itself with the International Featured Standard (IFS) Food and relies on the precision that BINDER constant climate chambers are able to deliver.
The climate chambers are able to simulate the production process under controlled conditions with exact settings for the temperature, humidity, and time required. This makes it possible to identify the best conditions for the product in question.
Accuracy and documentation are also crucial factors in creating prototypes of product advancements or new developments. The temperature, humidity and time all have an impact on the ultimate quality of the product, which means they need to be controlled with precision – and BINDER appliances have what it takes to meet these requirements. Precise control of the interior temperature and humidity, combined with tailored programming options, ensure that the required conditions can be simulated accurately and good test results achieved.
BINDER climate chambers make processes easier
Numerous working groups in the Simply V technical center use BINDER climate chambers for their product developments and particularly appreciate the units' mobility: The climate chambers are equipped with casters that make them easy to move and reposition within the center. This leads to even more flexible and efficient processes as the climate chambers can be transported easily from one working group to another, suiting the groups' needs and project requirements at any given time.
BINDER climate chambers also benefit from a cooling function that allows the time available to be used flexibly: In the case of tests that end during the night, for example, samples can be set to cool down by the next morning – so there is no need for employees to visit in the small hours and transfer the samples to the cooling chamber themselves.
The climate chamber is very easy and intuitive to program. We also love how mobile it is – it's easy to move around between colleagues, which is especially useful if there are several of us working in the lab at once
Numerous benefits for quality control in the food industry
The automated programming function in the KMF constant climate chamber offers a whole host of benefits that make processes easier to handle and boost efficiency in the Simply V technical center. This in turn allows for significant time savings as users can create and store time programs, eliminating the need for manual adjustments and constant monitoring. It also ensures highly reproducible results by establishing identical conditions across similar experiments. As the automated programming function is so flexible, it allows users to create a range of programs to suit different needs and use the climate chamber for all kinds of purposes. Finally, automated program guidance creates continuity and stable conditions over extended periods, ensuring precise and reliable results.
A standout feature of BINDER's KMF 240 climate chamber model is its easy operation. With its intuitive, self-explanatory functions, it ensures that even new employees can get to grips with it quickly – in fact, the brief nature of the operating instructions puts users on a steady footing within an hour. This not only makes day-to-day tasks easier, but also reduces the resources needed for training, saving time and costs.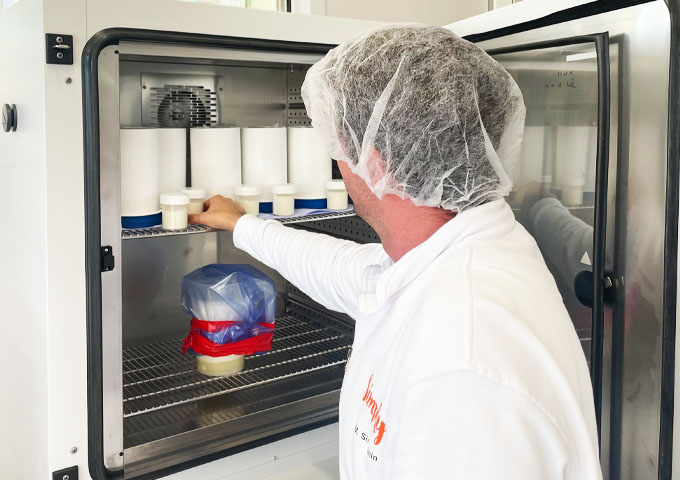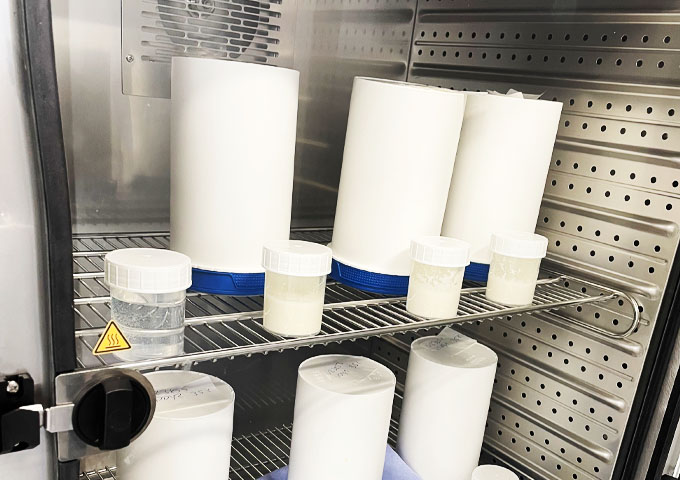 KMF 240: the perfect solution for precise environmental conditions in technical centers and production
The unit's interior glass door provides an unobstructed view inside without compromising the test process, and its tight seal ensures that hardly any temperature or humidity fluctuations take place.
This is vital when it comes to performing climate tests under laboratory conditions. The customer's technical center works in line with the provisions of the IFS, an internationally recognized standard for food safety and quality designed to ensure that every product and process conforms to exacting demands in the areas of safety, quality, and legal compliance.
The KMF 240 climate chamber's extensive temperature and humidity range also make it highly versatile – a real benefit for companies like E.V.A. GmbH, which tests its vegan cheese varieties in a range of environments. The extended temperature range means that the KMF 240 can be used in both product development and production for the purposes of monitoring and assuring product quality.
Humidity control
Temperature deviation +/-1°C
Program settings for ripening processes over several hours or days
Easy and intuitive operation
Multiple door openings per day
Can be used by multiple people
E.V.A. GmbH
Irsengunder Str. 13
88179 Oberreute, Germany

KMF 240 constant climate chamber
Humidity range: 10–98% RH
Humidity regulation with capacitive humidity sensor and steam humidification
Intuitive touchscreen controller with time-segment and real-time programming
Tightly sealed inner door made of tempered safety glass
Equipped with easy-to-move casters