We provide you with all-round competent and reliable support

BINDER services:
Additional factors for your success!
The outstanding performance of BINDER simulation chambers is not just a result of our groundbreaking, German-engineered technologies but also of our first-class range of services.
Vital services including unit maintenance, calibration, and qualification, as well as fulfillment of spare parts requests, are available to our customers all over the world.
So much added value –
Thanks to maintenance and support
When you install your BINDER simulation chamber, you also get immediate access to our complete international Service & Support package. We are true to our promise – the "best conditions for your success" – and therefore also provide all of our customers with the best service so that they can succeed.

As a leading manufacturer, we do not just produce first-class climate chambers, but also supplement these with a wide range of technical support, advice, and training on a global scale.

This means that you can work more effectively and efficiently with your BINDER units.
MAINTENANCE
During each maintenance check, all mechanical, electrical, and electronic unit components undergo a visual and functional test and are replaced in good time if necessary. The work carried out is documented in the maintenance plan. In addition, the technician also checks whether the actual temperature in the chamber matches the set target temperature on the controller within the permissible limits. BINDER recommends an annual maintenance check for all units.
CALIBRATION
During calibration, the technician checks and readjusts the unit settings (such as temperature, relative humidity, CO2, O2, pressure, etc.) if necessary. For this purpose, the chamber must be in a regulated state. After completing the calibration, BINDER will provide you with a calibration certificate. The certificate takes into account the recommendations of the DAkkS (Germany's national accreditation body) guidelines. The number of measuring points can be varied if desired.
INSTALLATION
Installation includes unpacking and setting up the unit, and connecting the unit to the power supply and other media (water, sewage, gas), where applicable and necessary. In addition, a function test is carried out after installation.
QUALIFICATION
The consistent quality of the products we manufacture – not to mention the reproducibility of test processes – is fundamental to the laboratories and production facilities which operate subject to GMP or GLP requirements. The resulting obligation to provide supporting evidence requires a large number of unit tests to be carried out and recorded precisely. BINDER is happy to help when it comes to significantly reducing the workload in qualifying and validating units.
Learn more about IQ, OQ and PQ
LEAK TESTING
Leak testing in accordance with Regulation EC 842/2006 ensures that the leak-tightness of systems containing hydrofluorocarbons is periodically checked and recorded.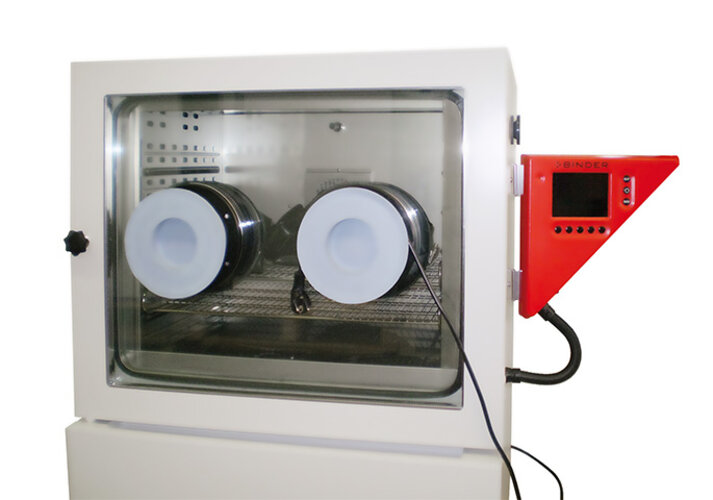 BINDER INDIVIDUAL: Individual extras for your simulation chamber
Even though the BINDER portfolio contains an incredibly wide variety of products and equipment options, some highly specific customer requirements still cannot be met by a device manufactured in series production. We can, however, adapt these devices to fit your individual requirements profile.
The things you've always wanted to know. As a technological pioneer of climate chambers for industrial and scientific laboratories, we have a broad repertoire of technical expertise and practical examples. This is where you will find helpful and useful information and interesting insights.