Reliable and reproducible incubation processes
Stable incubation processes
An incubator from BINDER is the perfect solution for stable incubation processes.
The incubators with natural convection or forced convection are now the perfect solution when it comes to meeting growth and incubation requirements of microbiological cultures. They guarantee reproducible results in every routine test in the laboratory – even under high batch throughputs in long-term operation.
With their exceptional efficiency and perfect temperature accuracy thanks to the very latest APT.line™ technology, this new generation of incubators has real appeal.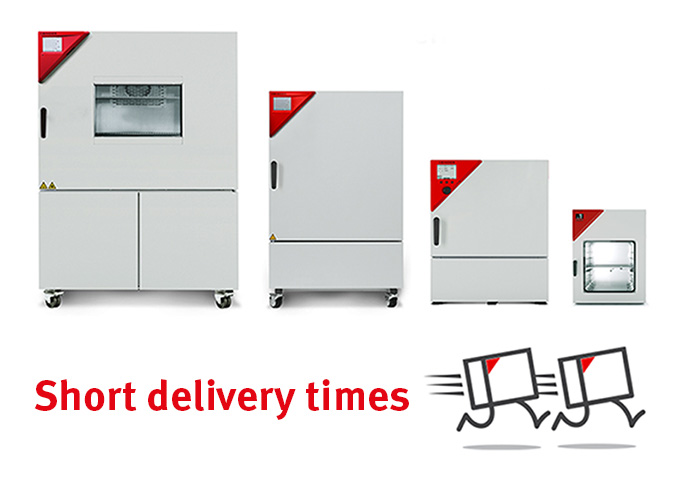 Short delivery time: Order BINDER chamber now!
The end of the year is often a stressful time when products and services are needed at short notice. That's why we deliver everything you need quickly and on time.
Benefit from our stock availability and our wide range of BINDER products with fast delivery times today.
BINDER Standard-Incubators
Select the right product for your specific requirements.
The advantages of our Standard-Incubators
Our Vice President's Peter Wimmer and Michael Binder-Pfaff explain the many advantages of our Standard-Incubators.
Benefit from our many years of experience and learn more about Standard Incubators and their applications
BINDER incubators for stable incubation processes
With a BINDER incubator, maximum precision is guaranteed
These microbiological incubators are safe and reliable, providing ideal culture conditions for stable incubation processes and guaranteeing optimum results that are reproducible in every routine laboratory test.
Every single incubator impresses with its use of state-of-the-art technology in combination with ultimate material and finish quality. BINDER incubators deliver maximum precision and reliable, reproducible results even under high batch throughputs in long-term operation.
The APT.line™ preheating chamber ensures high levels of temperature uniformity, with the option to adjust the temperature with the accuracy of a tenth of a degree. The disinfection routine at 100 °C minimizes the risk of contamination in all BINDER incubators, which can be cleaned with incredible ease thanks to the stainless steel interior not having any built-in fixtures.
BINDER incubators for ideal incubation conditions and reproducible results
BINDER has a range of incubators in different series, precisely tailored to suit specific requirements.
The B series includes incubators with mechanical adjustment, while the BD series features units with natural convection. With its BF series, BINDER has developed incubators which guarantee quick temperature equalization with forced convection after the door has been opened.
BINDER offers the perfect incubator for every application, from hygiene checks to microbiology. As a complete supplier in the field of microbiological incubators, BINDER has become known for its exceptional quality standards and precision, guaranteeing ideal incubation conditions and results that are reproducible at any time.
As well as precision and safety in the laboratory, with an incubator from BINDER you will also be getting a unit that is surprisingly easy to use and adjust.
Look no further than incubators from BINDER for all of your incubation tasks within the fields of research, production, and quality assurance.