Research project supports sustainable battery recycling
Battery technology has made enormous progress in recent years and is playing an increasingly important role in storing renewable energy and the electrification of transport. To keep pace with this development and further expand its role in battery research at the cell and module level in the future, the University of Wuppertal opened a battery laboratory at the end of 2022, equipped with an extensive test setup. What's more, the BINDER MK dynamic climate chambers are there, playing their – important – part.
To set up the battery laboratory, the university initially purchased battery testers that can test batteries at the cell or module level. Further research then determined which dynamic climate chambers were most compatible with the testers. The laboratory decided in favor of the BINDER MK 115 and MK 720 models with additional safety features. In addition to their compatibility, decisive factors for the purchase included rapid temperature fluctuation speeds as well as a wide temperature range for performing future tests.
Although initial planning projected a temperature range of -20 to +180 °C, it quickly became clear that the BINDER chambers offering a range from -40 to +180 °C fit the bill perfectly and represented a significantly better investment for the future. When it comes to testing high-voltage batteries, various standards such as UNECE Regulation 100, IEC 62660-1 or ISO 62660-1 are key. Among other things, they specify the requirements for the safety, performance, and lifespan of lithium-ion batteries, including high-voltage batteries.
Naturally, compliance with all necessary standards to ensure safe and efficient use was another decisive criteria when it came to selecting the units. Once more, the BINDER chambers took all these requirements into account.
We were able to seamlessly integrate the BINDER chambers into our own test equipment and they upheld all of the delivery promises – proof that we had made the right choice in purchasing these high-quality units.
University of Wuppertal
Initialization trials in the battery lab: software-controlled testing at the cell level
The battery laboratory started its short history by performing initialization tests. For this purpose, it created software-based program sequences designed to test batteries at cell level. The defined test/charge profiles consist of test parameters such as charging speed, charging power, duration, and the required ambient temperatures. The software controls that the connected units interact smoothly with each other. This explains why the aforementioned issue of unit compatibility is of such great relevance.
UniZub: New technology revolutionizing the recycling of electric car batteries
A first concrete research project has already been launched under the name UniZub. This project is based on a collaboration with waste management company AWG Wuppertal which, among other things, operates a car recycling site. The number of electric vehicles parked in this site is increasing and posing an enormous challenge for recycling. This is due to the fact that the site operators do not know the condition of the installed high-voltage battery, comparable to a black box.
Using computer simulations and practical tests, the battery laboratory is currently developing the foundations for a universal condition estimator that will determine the current condition of high-voltage batteries in the future. It is only when this crucial data is available that decisions can be made regarding the further use of these batteries (second-life use or recycling of the components).
Batteries of the future: More energy, longer lifespan, and more environmentally friendly alternatives
Further development processes of lithium-ion batteries will look to increase their energy density and lifespan as well as reduce manufacturing costs and improve safety. To this end, the laboratory is researching and developing new materials such as solid-state batteries. Another area it is pursuing includes integrating batteries into various applications such as electric vehicles and stationary energy storage devices. In addition, the development of recycling methods for lithium-ion batteries is gaining in importance to reduce the environmental impact and minimize raw material requirements.
As well as improving lithium-ion batteries, intensive research is also being conducted into alternative battery technologies such as sodium-ion batteries. They have the potential to replace lithium as a critical raw material and could therefore be more cost-efficient and environmentally friendly in certain applications in the future.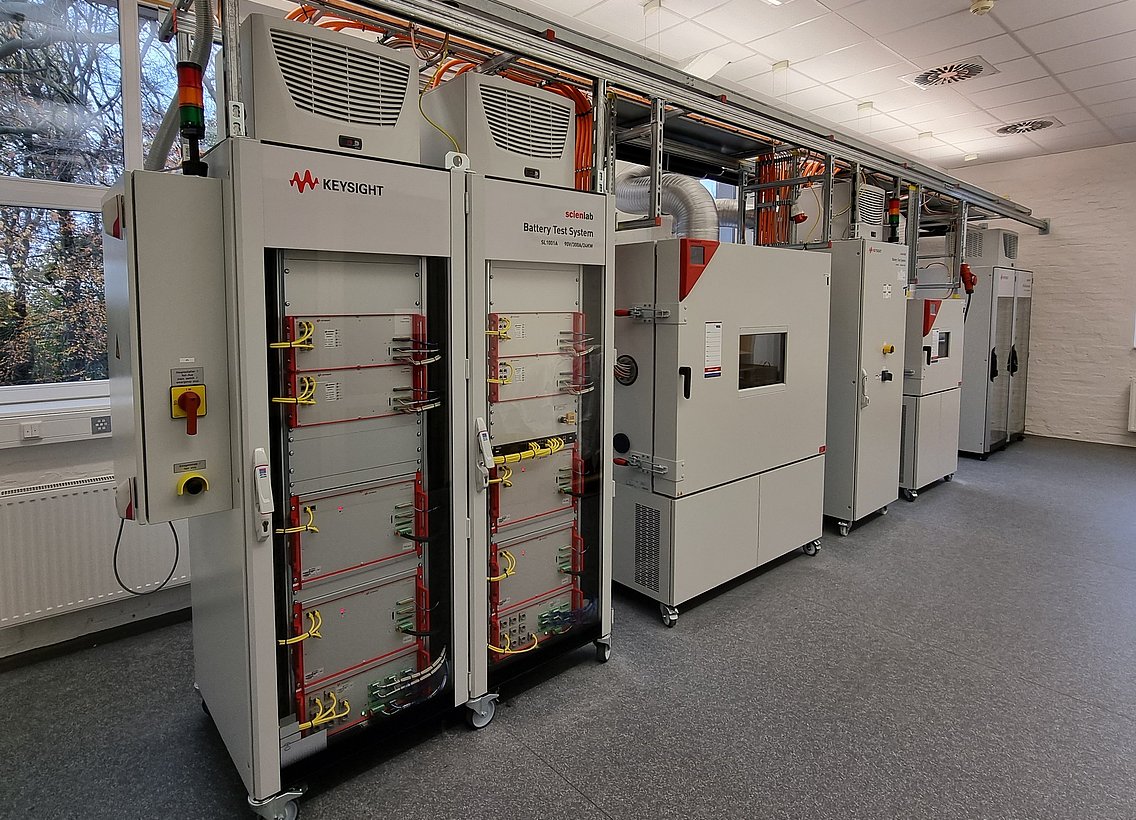 Initialization tests of defined charging profiles for battery cells

Software-based program sequences

Compatibility of module tester, dynamic climate chamber, and cell tester

Compliance with UNECE Regulation 100, IEC 62660-1, ISO 62660-1 standards
University of Wuppertal
Chair of Electric Mobility and Energy Storage Systems
Rainer-Gruenter-Straße 21 | 42119 Wuppertal, Germany

MK 115 and 720 dynamic climate chambers

Temperature range: -40 °C to 180 °C

Safety features:

2 independent adjustable temperature safety devices

Heated stainless steel pressure relief flap

Door-locking mechanism with reinforced brackets on the closing side

Inert gas connection for on-site gas connection/nitrogen flushing