The ideal optional features for your
BINDER test chamber
We offer our customers a comprehensive selection of options and accessories for BINDER temperature, climate and environmental simulation chambers.

You will find a complete list of all options and accessories suitable for each of our
products on the respective series and model pages.
BINDER PURE AQUA SERVICE is used to treat or fully desalinate tap water if the water quality is insufficient.
The ion exchange system consists of a housing, an integrated filter cartridge and a filter head. The digital quality-monitoring system is integrated in the filter head of the BINDER PURE AQUA SERVICE and uses 10 LEDs to display the current operating condition of the filter medium.
BINDER Pure Aqua Service (265,07 kB)
Sterile humidification water
The sterilised, desalinated humidification water can be used for all BINDER CO2 incubators with active humidification of the CBF series. Manual filling of the standard water bags is no longer necessary, thus ensuring process-safe work, e.g. in the GMP environment. The 1-litre bottles are very easy to connect with the supplied material and can be replaced in no time at all.
CO2 incubators with active humidification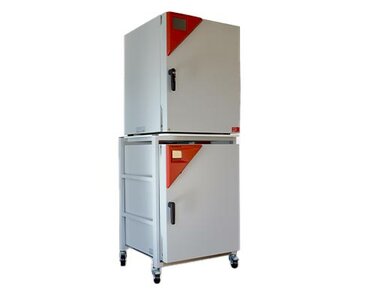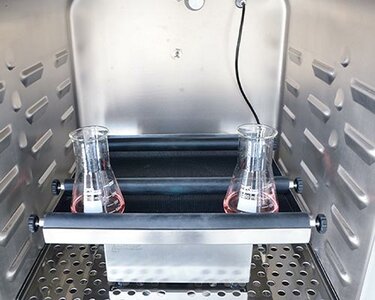 Shaker for CO2 incubators
The BINDER CO2 shaker is the newly developed, high-quality solution for the incubation of suspension cell cultures in CO2 incubators.
Through the exclusive use of corrosion-resistant components in the stainless steel housing, the CO2 shaker is especially suited for gassed incubators with increased CO2 concentrations and nearly saturated air humidity.
The "Universal" version is suitable for all CO2 incubators also without access port while the "Professional" version is specifically designed for the CB Series with the electric access port option.
Leaks and condensation with this solution are uncompromisingly prevented.
Data sheet: Shaker for CO2 incubator (191,42 kB)
The LED light bar sets are suitable for illumination of the interior of BINDER climate chambers from different series and sizes with low light intensities.
They are easy to install and can be positioned flexibly.
The light bars are available in three different lengths (30, 50, 90 cm) as basic set with attachment material and control unit.
Two additional light bars can be connected to the control unit with an expansion set.
Data sheet: LED light bar sets (920,66 kB)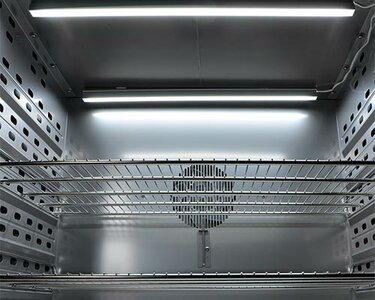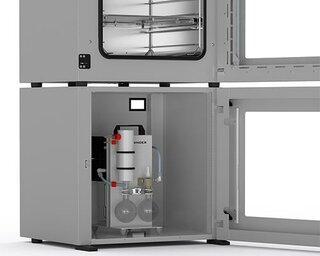 Vacuum module with pump for VD und VDL series
Your BINDER vacuum drying chamber is available with an ideally matched vacuum pump in a separate vacuum module.
This reduces the noise level by 50% and makes it considerably easier to access the vacuum chamber.
Setup is conceivably simple because the associated kit contains all the connections you need.
Series VD | Vacuum drying chambers for non-flammable solvents
Series VDL | Vacuum drying chambers for flammable solvents
VAP5 Flyer EN (191,57 kB)
Copper option as accessory
Copper accessories as a safety feature in addition to the BINDER anti-contamination concept.
The BINDER anti-contamination concept is characterized by the following main features:
Sterilization program with 180 °C hot air – "biological reset" option
No forced convection in the interior to avoid direct airborne germ contamination
Humidity management to avoid contamination caused by condensation on the interior walls
No corners, edges, or fixtures (except shelves, wire rack, and water pan) for convenient cleaning and disinfection of the incubator chamber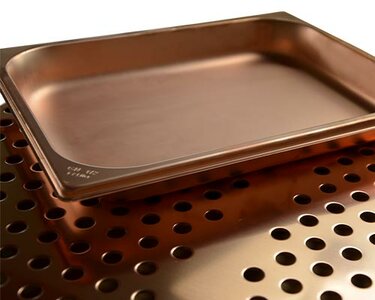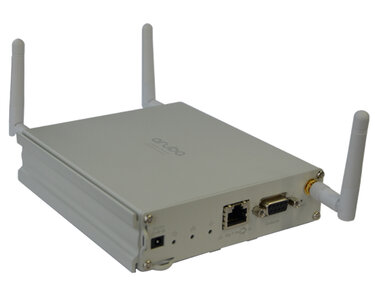 The kit contains a client bridge that establishes a wireless connection between BINDER units and APT-COM4, LIMS, or customer-specific software via an Ethernet interface.
It provides an alternative solution in situations where units need to be positioned in locations without an on-site Ethernet connection.
In secured networks, installation and configuration must be performed by the customer's IT service.
Data Sheet: WLAN-Kit (178,25 kB)
The dry-air purge used in combination with a BINDER MK, MKF, MKT or MKFT series dynamic climate chamber is suitable for simulating a dry and cool climate.
The climate diagrams of the MKF and MKFT series with humidity control are extended and the simulation of common automobile standards is possible.
Data Sheet: Dry-air purge (151,32 kB)