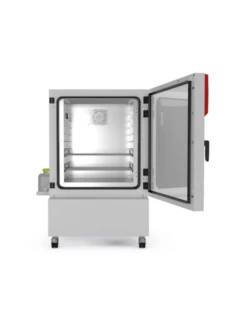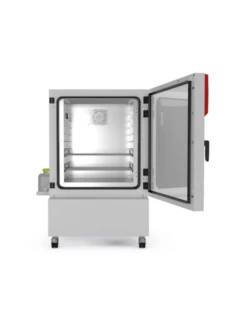 Model KBF-S ECO 240 | Constant climate chambers with Peltier technology
Safe thanks to standard-compliant testing according to the ICH Q1A guideline, even with full load.
Reliable thanks to failsafe operation without compromise.
Smart, as a wide range of accessories makes it highly compatible for adaptation to specific customer requirements.
Economical, as energy consumption is minimal thanks to optimized thermoelectric cooling.
Temperature range: 0 °C to +70 °C (max. 24 °C under ambient temperature)
Humidity range: 10% to 80% RH
APT.line™ preheating chamber technology
Independent water supply via tank
LCD to display temperature and humidity along with additional information and alarms
Internal data logger, measured values can be read out in open format via USB
Unit self-test for comprehensive status analysis
Inner chamber made completely of stainless steel
2 stainless steel racks, including shelf carrier
Access port with silicone plug Ø 30 mm, left
Technical specifications
Designation
KBFSECO240-230V¹
KBFSECO240UL-120V¹
Option model
Standard
Standard
Order number
9020-0416
9020-0420
Net weight of the unit (empty) [lbs]
01
01
Data
Serie
KBF-S ECO
KBF-S ECO
Performance Data Temperature
Max. heat compensation at 40 °C [W]
250
250
Temperature fluctuation at 40 °C [± K]
0.1
0.1
Temperature range (max. 24 °C under ambient temperature) [°C]
0…70
0…70
Temperature range (max. 28 °C under ambient temperature) [°C]
0…70
0…70
Temperature variation at 40 °C [± K]
0.2
0.2
Performance Data Climate
Humidity fluctuation at 25 °C and 60 % RH
0,3 % RH
0,3 % RH
Humidity fluctuation at 40 °C and 75 % RH
0,3 % RH
0,3 % RH
Humidity range
10…80
10…80
Recovery time after 30 seconds door open at 25 °C and 60 % RH [min]
5
5
Recovery time after 30 seconds door open at 40 °C and 75 % RH [min]
11
11
Temperature fluctuation at 25 °C and 60 % RH [± K]
0.1
0.1
Temperature fluctuation at 40 °C and 75 % RH [± K]
0.1
0.1
Temperature range (max. 24 °C under ambient temperature) [°C]
5…70
5…70
Temperature variation at 25 °C and 60 % RH [± K]
0.1
0.1
Temperature variation at 40 °C and 75 % RH [± K]
0.2
0.2
Electrical data
Nominal power [kW]
0.8
0.8
Phase (Nominal voltage)
1~
1~
Power frequency [Hz]
50/60
50/60
Rated Voltage [V]
200…230
100…120
Unit fuse [A]
16
16
Doors
Unit doors
1
1
Housing dimensions not incl. fittings and connections
Depth net [mm]
796
796
Height net [mm]
1461
1461
Width net [mm]
932
932
Internal Dimensions
Depth [mm]
485
485
Height [mm]
785
785
Width [mm]
650
650
Measures
Interior volume [L]
247
247
Load per rack [kg]
30
30
Net weight of the unit (empty) [kg]
146
146
Permitted load [kg]
100
100
Wall clearance back [mm]
100
100
Wall clearance sidewise [mm]
180
180
Environment-specific data
Energy consumption at 40 °C and 75 % RH [Wh/h]
85
85
Sound-pressure level [dB(A)]
46
46
Fixtures
Number of shelves (std./max.)
2/9
2/9
Performance Data Temperature
Max. heat compensation at 40 °C [W]
250
250
Temperature fluctuation at 40 °C [± K]
0.1
0.1
Temperature range (max. 24 °C under ambient temperature) [°C]
0…70
0…70
Temperature range (max. 28 °C under ambient temperature) [°C]
0…70
0…70
Temperature variation at 40 °C [± K]
0.2
0.2
Performance Data Climate
Humidity fluctuation at 25 °C and 60 % RH
0,3 % RH
0,3 % RH
Humidity fluctuation at 40 °C and 75 % RH
0,3 % RH
0,3 % RH
Humidity range
10…80
10…80
Recovery time after 30 seconds door open at 25 °C and 60 % RH [min]
5
5
Recovery time after 30 seconds door open at 40 °C and 75 % RH [min]
11
11
Temperature fluctuation at 25 °C and 60 % RH [± K]
0.1
0.1
Temperature fluctuation at 40 °C and 75 % RH [± K]
0.1
0.1
Temperature range (max. 24 °C under ambient temperature) [°C]
5…70
5…70
Temperature variation at 25 °C and 60 % RH [± K]
0.1
0.1
Temperature variation at 40 °C and 75 % RH [± K]
0.2
0.2
Electrical data
Nominal power [kW]
0.8
0.8
Phase (Nominal voltage)
1~
1~
Power frequency [Hz]
50/60
50/60
Rated Voltage [V]
200…230
100…120
Unit fuse [A]
16
16
Doors
Unit doors
1
1
Housing dimensions not incl. fittings and connections
Depth net [in]
31.36
31.36
Height net [in]
57.6
57.6
Width net [in]
36.72
36.72
Internal Dimensions
Depth [in]
19.11
19.11
Height [in]
30.93
30.93
Width [in]
25.61
25.61
Measures
Interior volume [cu.ft.]
8.7
8.7
Load per rack [lbs]
66
66
Net weight of the unit (empty) [lbs]
322
322
Permitted load [lbs]
220
220
Wall clearance back [in]
3.94
3.94
Wall clearance sidewise [in]
7.09
7.09
Environment-specific data
Energy consumption at 40 °C and 75 % RH [Wh/h]
85
85
Sound-pressure level [dB(A)]
46
46
Fixtures
Number of shelves (std./max.)
2/9
2/9
Downloads
| | | |
| --- | --- | --- |
| Data Sheets KBF-S ECO 240 | pdf | |
| Operating Manuals KBF-S ECO series | pdf | |
| Technical Drawings Version KBF-S ECO240-230V 9020-0416 | pdf | |
| Technical Drawings Version KBF-S ECO240-120V 9020-0420 | pdf | |
| Brochures Constant climate chambers with Peltier technology Series KBF-S ECO Solid.Line | pdf | |
| Brochures BINDER INDIVIDUAL Series production devices for special requirements | pdf | |