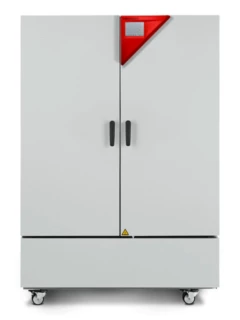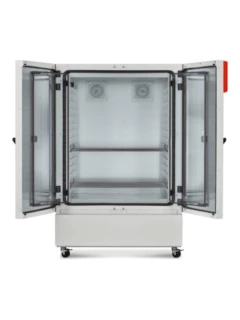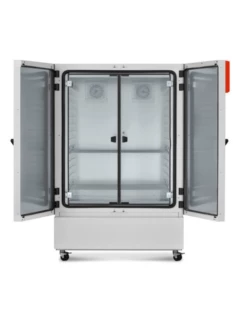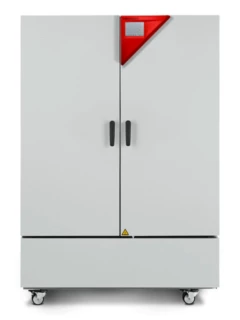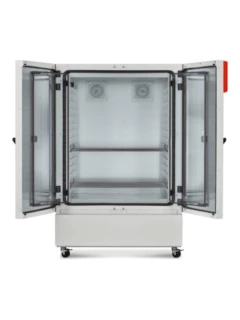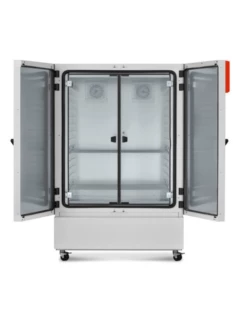 Model KBF 720 | Constant climate chambers with large temperature / humidity range
Safe thanks to climatic homogeneity that far exceeds the accuracy required by ICH guidelines, even with a fully loaded unit.
Reliable thanks to failsafe operation without compromise. The interior and Longlife evaporator plate are made entirely from stainless steel.
Smart, as a wide range of accessories makes it highly compatible for adaptation to specific customer requirements.
Economical thanks to maximum effective volume which allows for 30% larger load compared to the competition.
Temperature range: 0 °C to +70 °C
Humidity range: 10 % to 80 % RH
APT.line™ preheating chamber technology
Humidity regulation with capacitive humidity sensor and vapor humidification
Intuitive touchscreen controller with time-segment and real-time programming
BINDER Multi Management Software APT-COM™ Basic Edition
Internal data logger, measured values can be read out in open format via USB
Unit self-test for comprehensive status analysis
Tight-sealing inner door made of safety glass (ESG)
Avoidance of glass corrosion by special TIMELESS coating
Inner chamber made of stainless steel
2 stainless steel racks
Access port with silicone plug, 30 mm, left
4 stable castors, two with brakes, from 240 liters
Class 3.1 independent temperature safety device (DIN 12880) with visual and audible temperature alarm
Computer interface: Ethernet
Door heating
Technical specifications
Designation
KBF720-230V¹
KBF720UL-240V¹
Option model
Standard
Standard
Order number
9020-0324
9020-0325
Data
Serie
KBF
KBF
Performance Data Temperature
Max. heat compensation at 40 °C [W]
600
600
Temperature fluctuation [± K]
0.1
0.1
Temperature range
0…70
0…70
Temperature variation at 40 °C [± K]
0.2
0.2
Performance Data Climate
Humidity fluctuation at 25 °C and 60 % RH
1,5 ± % RH
1,5 ± % RH
Humidity fluctuation at 40 °C and 75 % RH
1,5 ± % RH
1,5 ± % RH
Humidity range
10…80
10…80
Recovery time after 30 seconds door open at 25 °C and 60 % RH [min]
16
16
Recovery time after 30 seconds door open at 40 °C and 75 % RH [min]
17
17
Temperature fluctuation at 25 °C and 60 % RH [± K]
0.1
0.1
Temperature fluctuation at 40 °C and 75 % RH [± K]
0.1
0.1
Temperature range [°C]
10…70
10…70
Temperature variation at 25 °C and 60 % RH [± K]
0.2
0.2
Temperature variation at 40 °C and 75 % RH [± K]
0.2
0.2
Electrical data
Nominal power [kW]
3.1
3.1
Phase (Nominal voltage)
1~
1~
Power frequency [Hz]
50/60
50/60
Rated Voltage [V]
200…230
200…240
Unit fuse [A]
16
16
Doors
Inner doors
2
2
Unit doors
2
2
Housing dimensions not incl. fittings and connections
Depth net [mm]
890
890
Height net [mm]
1925
1925
Width net [mm]
1250
1250
Internal Dimensions
Depth [mm]
576
576
Height [mm]
1250
1250
Width [mm]
973
973
Measures
Interior volume [L]
700
700
Load per rack [kg]
45
45
Net weight of the unit (empty) [kg]
312
312
Permitted load [kg]
150
150
Wall clearance back [mm]
100
100
Wall clearance sidewise [mm]
300
300
Environment-specific data
Energy consumption at 40 °C and 75 % RH [Wh/h]
620
620
Sound-pressure level [dB(A)]
53
53
Fixtures
Number of shelves (std./max.)
2/15
2/15
Performance Data Temperature
Max. heat compensation at 40 °C [W]
600
600
Temperature fluctuation [± K]
0.1
0.1
Temperature range
0…70
0…70
Temperature variation at 40 °C [± K]
0.2
0.2
Performance Data Climate
Humidity fluctuation at 25 °C and 60 % RH
1,5 ± % RH
1,5 ± % RH
Humidity fluctuation at 40 °C and 75 % RH
1,5 ± % RH
1,5 ± % RH
Humidity range
10…80
10…80
Recovery time after 30 seconds door open at 25 °C and 60 % RH [min]
16
16
Recovery time after 30 seconds door open at 40 °C and 75 % RH [min]
17
17
Temperature fluctuation at 25 °C and 60 % RH [± K]
0.1
0.1
Temperature fluctuation at 40 °C and 75 % RH [± K]
0.1
0.1
Temperature range [°C]
10…70
10…70
Temperature variation at 25 °C and 60 % RH [± K]
0.2
0.2
Temperature variation at 40 °C and 75 % RH [± K]
0.2
0.2
Electrical data
Nominal power [kW]
3.1
3.1
Phase (Nominal voltage)
1~
1~
Power frequency [Hz]
50/60
50/60
Rated Voltage [V]
200…230
200…240
Unit fuse [A]
16
16
Doors
Inner doors
2
2
Unit doors
2
2
Housing dimensions not incl. fittings and connections
Depth net [in]
35.07
35.07
Height net [in]
75.8
75.8
Width net [in]
49.3
49.3
Internal Dimensions
Depth [in]
22.69
22.69
Height [in]
49.3
49.3
Width [in]
38.34
38.34
Measures
Interior volume [cu.ft.]
24.7
24.7
Load per rack [lbs]
99
99
Net weight of the unit (empty) [lbs]
688
688
Permitted load [lbs]
331
331
Wall clearance back [in]
3.94
3.94
Wall clearance sidewise [in]
11.82
11.82
Environment-specific data
Energy consumption at 40 °C and 75 % RH [Wh/h]
620
620
Sound-pressure level [dB(A)]
53
53
Fixtures
Number of shelves (std./max.)
2/15
2/15
Downloads
| | | |
| --- | --- | --- |
| Data Sheet KBF 720 | pdf | |
| Operating Manuals KBF | KMF series | pdf | |
| Technical Drawings Version KBF 720 External dimensions | pdf | |
| Technical Drawings Version KBF 720 Access ports | pdf | |
| Brochures Humidity test chambers KBF | KBF-S | KBF P | KBF LQC | KMF series | pdf | |
| Brochures BINDER INDIVIDUAL Series production devices for special requirements | pdf | |