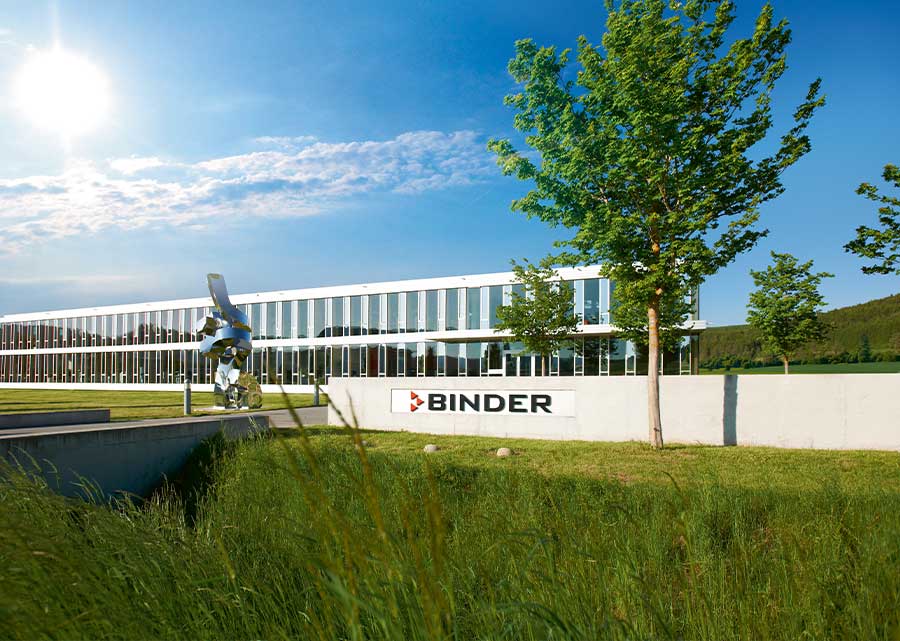 Simulation chambers
from the leading expert
As a family business, BINDER is completely focused on simulation chambers. We are the world's largest specialist in simulation chambers for the scientific and industrial laboratory. Over 22,000 units leave our plant in Tuttlingen every year.
Perfected cutting-edge technologies, pioneering innovations and absolute precision characterize the BINDER brand image. Our primary focus is on the perfect simulation of biological, chemical and physical environmental conditions for a wide range of industries.
The three red triangles stand for superior products, the best service package and professional consultation. This is "Best conditions for your success".
Responsible since the founding until today: The BINDER family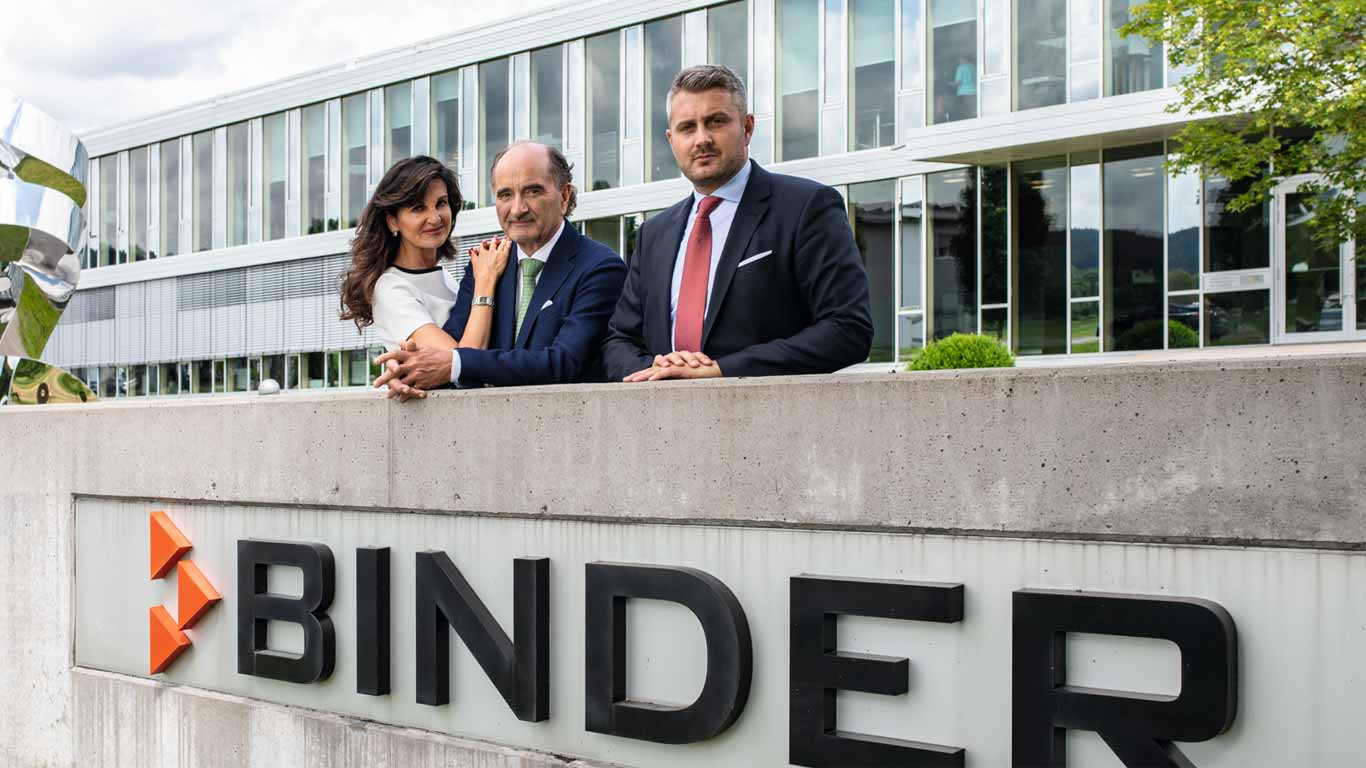 Growth needs
roots and visions
The company founder, Peter M. Binder, marked a milestone in laboratory technology in 1983 with the development of the hot air sterilizer. Within the space of just three decades, BINDER has established itself as an innovative company with above-average growth and outstanding future prospects.

We ensure our independence as a family company by maintaining our consistent premium brand strategy, continuing to develop our production capacity at our German site, and internationalizing our sales activities. As well as working with our core markets in Europe, we are taking advantage of the opportunities in growth markets all over the world.
Currently, BINDER already generates around a third of its revenue in Asia and is experiencing constant growth on the American market.
1983

WTB BINDER Labortechnik GmbH founded with drying chambers and incubators

1989

First production hall acquired at the Tuttlingen site

1991

Revolutionary product design – APT.line technology for temperature chambers introduced onto the market

2000

Name changed to BINDER GmbH with the red triangle as the logo

2002

BINDER Inc., USA founded

2003

New business area: environmental simulation chambers for industrial applications

2005

BINDER research and development center (FEZ) opened at the Tuttlingen site
2008

BINDER ASIA Pacific Ltd founded in Hong Kong

2011

Production capacity expanded to 3,800 m²

2013

30 years after it was founded, BINDER has 400 employees, produces 22,000 units per year, and generates an annual revenue of 60 million Euros

2017

Opening of the COMPETENCE FACTORY; production area is expanded by 8,800 m²

2018

The magazine WirtschaftsWoche names BINDER as one of the most innovative companies in Germany

2021

460 employees worldwide and company sales increase to 92 million Euros
The story of the BINDER family company goes right back to the 19th century and the company has the best prospects for the future.
Our fundamental goal is to offer a substantial technical contribution to improve the health and safety of mankind!
This ambitious goal starts with our core business of supporting demanding laboratory and research work with outstanding environmental simulation chambers – but it does not end there:
As well as our international core business, we also do our bit for the region and the community. We support projects involving art, culture, and sport, and are committed to the environment, research, and training specialists for the long term. With our total commitment, we want to be a role model for other sponsors of our region!
For over 30 years, we have been offering our customers more and more when it comes to first-class performance. When it comes to the environment, however, we follow the motto "less is more".
Ecology and protecting resources do not just determine the development and production of our environmental simulation chambers, but also all of our corporate activities.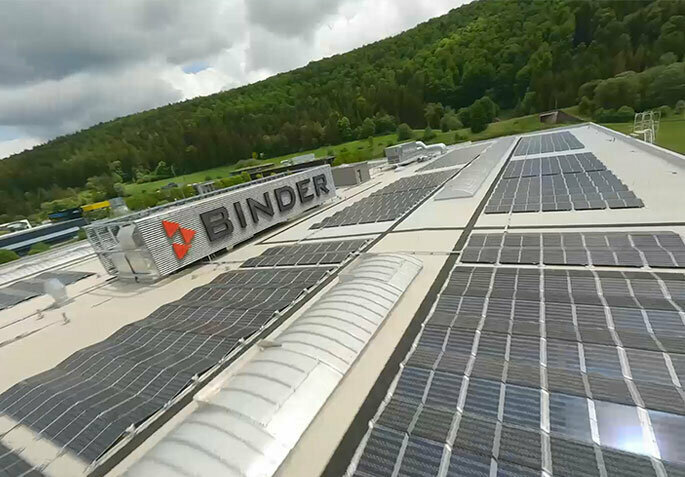 Innovation starting at the factory
We at BINDER have always placed great value on research and development and we continue to invest heavily in this area today – currently around 9% of our revenue.
Customer requirements form the foundation
Here at BINDER, we see ourselves as a partner and innovator for scientific and industrial laboratories.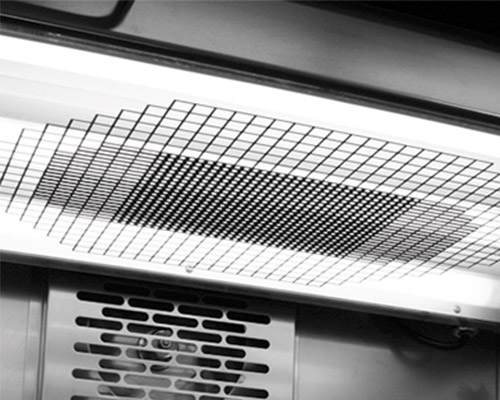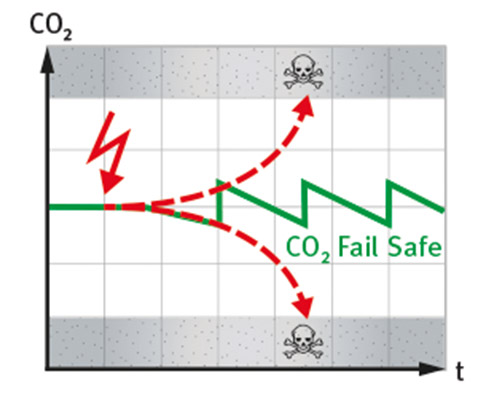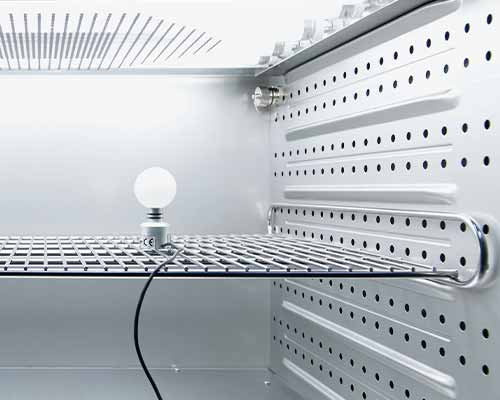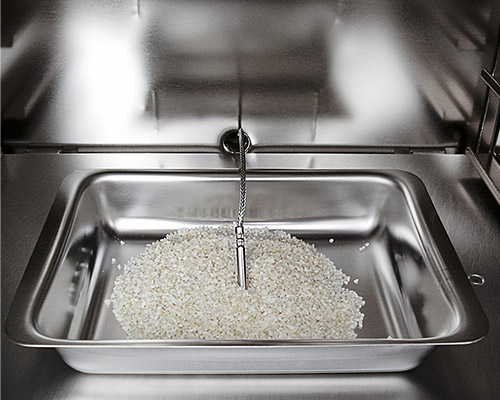 BINDER Laboratory Technologies
APT.line™: Unique tempering principle with Advanced Preheating Technology

SynergyLight™: Illumination cassette with special lamps

Light Quantum Control™: Precise light intensity measurement using special 3D ball-type sensors

PERMADRY™: Controlled humidity system in BINDER CO2 incubators

SmartVent: The intelligent software of the BINDER vacuum drying ovens detects the end of drying based on the pressure curve and ventilates automatically.

CO2 -FailSafe-Funktion: The benefit of the FailSafe function is that in the case of a sensor defect, the CO2 concentration is maintained within a range that allows cell cultures to survive in a CO2 incubator.
Which branch are you working in?
All BINDER trademarks relating to products or service, as well as trade names, logos and product names used on the website, products and documents of BINDER company are trademarks or registered trademarks of BINDER company (including BINDER GmbH, BINDER Inc.) in the U.S. and other countries and communities of states. This includes word marks, position marks, word/figurative marks, design configurations, figurative marks, and design patents.
BINDER products, categories of products, and accessories may be covered by one or more patents and/or utility models in the U.S. and other countries and communities of states. This information is provided to satisfy the virtual patent marking provisions of various jurisdictions, in particular it is intended to serve as notice under 35 U.S.C. § 287(a). Products and services listed on the BINDER website may be sold individually or as part of a combination product. Additional patent applications may also be pending in the U.S. and other countries and communities of states.