Applications:
The exteriors of the storage devices are inspected first, then optical and scanning electron microscopes are used to investigate their interiors.
Findings are obtained through aging processes that have an impact on both a structural and chemical level. The data is transferred to a digital twin that the scientists can age virtually.
Six months of continuous operation are required to yield this data, which can then be used to simulate a period of three to five years.
Customer requirements
:
Small footprint – to fit into a small installation area
Space-saving solution available
Customized solutions available, with features such as access ports
Door-locking mechanism
Heated pressure relief flap
Door with window
Interior illumination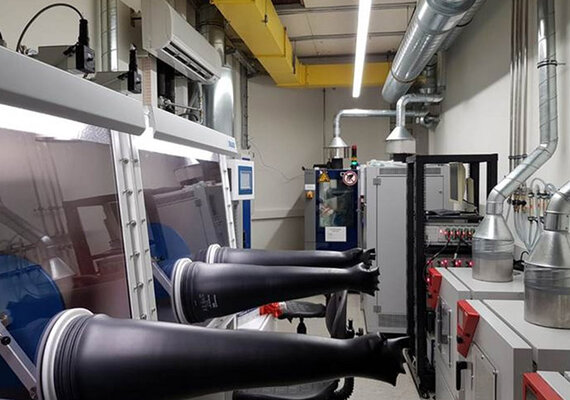 About the customer:
Enerlab 4.0 at the University of Applied Sciences Offenburg tests lithium-ion energy storage devices. In its battery testing processes, this state-of-the-art laboratory uses several customized cooling incubators with package P, supplied by BINDER INDIVIDUAL.
BINDER cooling incubator with package P for performance tests
Class 2 independent adjustable temperature safety device when temperature is set to 120°C
Temperature range limited to 120°C on the controller
Stainless-steel reversible pressure relief flap installed in the middle on top of the unit
Enhanced door-locking mechanism with reinforced brackets