Case Study Automotive Industry
Tasks:
Dry varnish and adhesive in a short time at a high temperature
Consistent temperature distribution
Door easy to open
Independent adjustable temperature safety device


BINDER solutions:
Temperature range: Ambient temperature plus 5 °C to 300 °C
Controller with time-segment and real-time programming
Fresh-air monitoring with audible and visual alarm and automatic deactivation of heating
Replaceable fresh-air filter cartridge, Class M6 spare filter according to DIN EN 779:2012
Class 2 independent adjustable temperature safety device (DIN 12880) with visual alarm
Computer interface: RS 422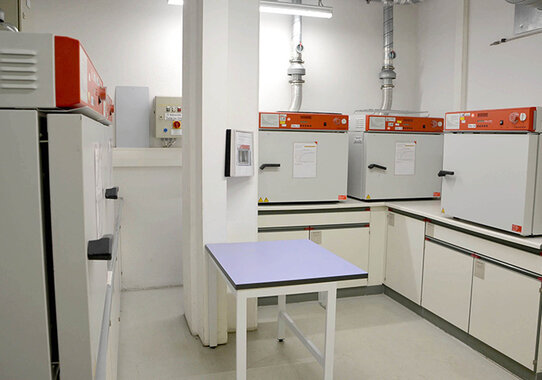 BINDER safety drying chambers can be used to perform what are known as stress tests on different materials. They are even used by a notable car manufacturer in Lower Bavaria.
For example, it simulates stone chipping, corrosion, and other environmental factors on prepared test panels in order to test their material properties. Once the test panel has been coated with the final relevant functional layer, it goes into the BINDER chamber, which is heated to 145 degrees centigrade. After approximately 20 minutes, the test piece is
removed and subjected to simulated stone chipping, for example. Adhesive tests are also vital in the automotive
industry. After all, adhesive is increasingly becoming a more popular choice than welding in today's industry. This is because many types of adhesive are very resilient, as well as being extremely strong and elastic.
BINDER chambers are also ideal for testing these properties as many times as needed. Test pieces are stuck together with adhesive for the purposes of these tests. The adhesive is applied to the metal surfaces and dried in a safety drying chamber for several minutes according to the requirements. The adhesive is then torn and the strength value is deduced.
Advantages of safety drying chambers
Fulfills the safety requirements of EN 1539:2010-08
Short drying times with high temperature accuracy and defined ventilation
Interior free from silicone and dust
Easily replaceable fresh-air cartridge ensures constant fresh‑air quality